Adweek's Creative 100: Meet 2019's Most Fascinating People in Marketing, Media and Culture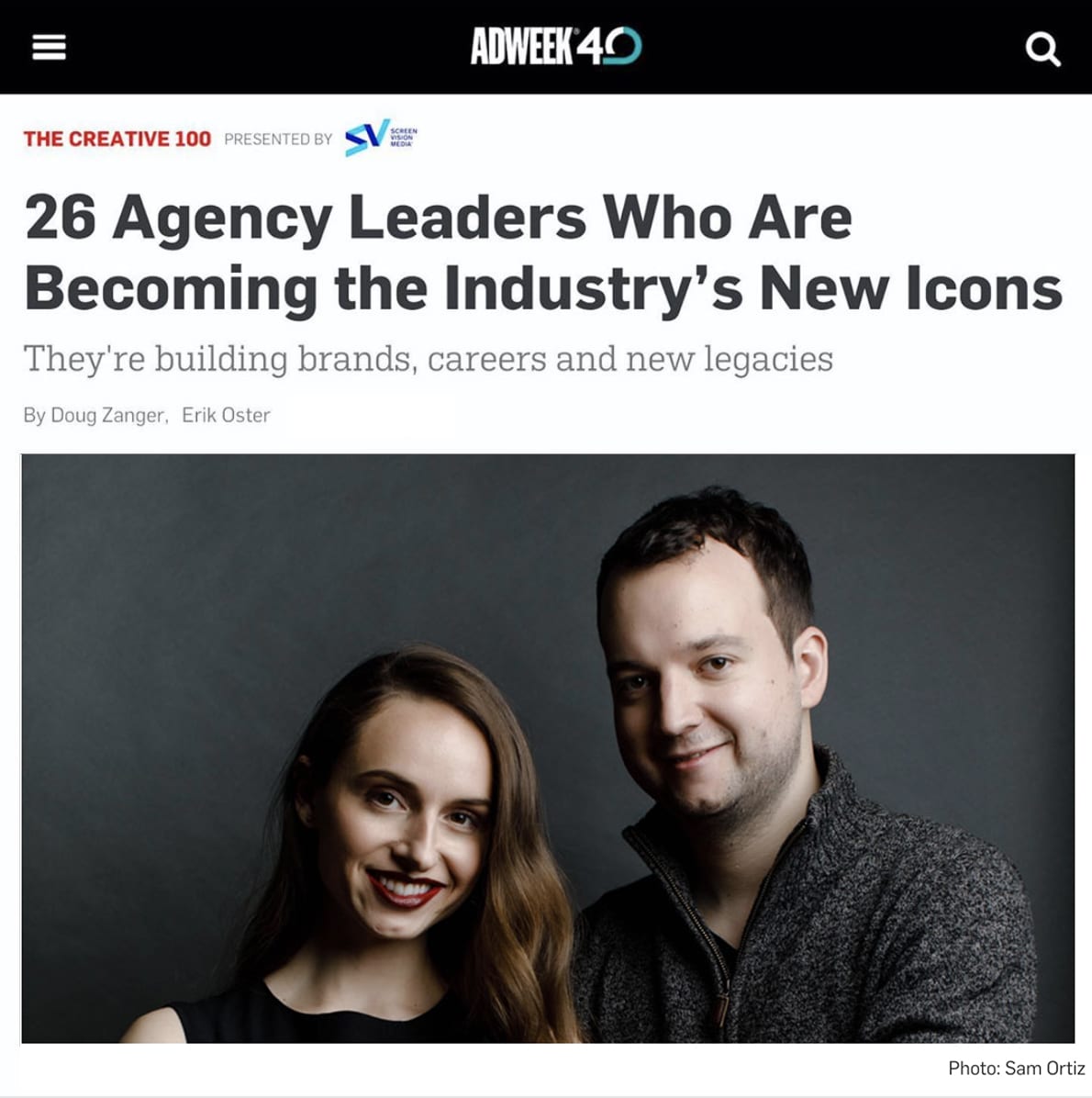 Quirk co-founders Meryl & Gaelan Draper make the list. This post was originally featured in Adweek.
Defining creativity can be, at once, both obvious and impossibly nuanced. As the lines between marketers and makers continue to blur, creative talents are crossing over into culture in more ways than ever before.
Each year, Adweek celebrates the Creative 100, a roster of gifted professionals who inspire current and future generations not only with their work but also their passion for creativity across advertising, media, art, literature, animation and more.
Check out Adweek's Creative 100 by category, and the full list below:
Based in: Brooklyn
Hometowns: Andover, Mass. (Meryl) and Washington, D.C. (Gaelan)
Career stops: Meryl: PR in Washington D.C., then Ogilvy in Bangalore, India. Gaelan: An actor in the film Chocolat at age 10 and founder of the largest fast-casual burrito chain in India.
The most rewarding part of the job: "Honestly, working for myself is the most rewarding part," Meryl says. "And to have worked through the ups and downs of my career to land here now, five years into running a growing agency, is exactly what I had hoped for."
Best advice for aspiring creatives: "There are no rules when it comes to building your career," Gaelan says. "[We] built our careers on jumping on opportunities we were way too young to have any business doing—and I believe in the same for any aspiring creatives out there."
The secret to recharging: "As boring as this is," Meryl says, "I recharge my batteries by sleeping. Avidly. Frequently. As much as possible. I work really, really hard between 9 and 6, and then I crash."
A celeb they'd love to work with: Meryl: "Meryl Streep. There aren't many of us Meryls out there, so I'd get a kick out of collaborating with most famous Meryl of them all."—Doug Zanger