Head To Film Gaelan Connell Featured In Gear Patrol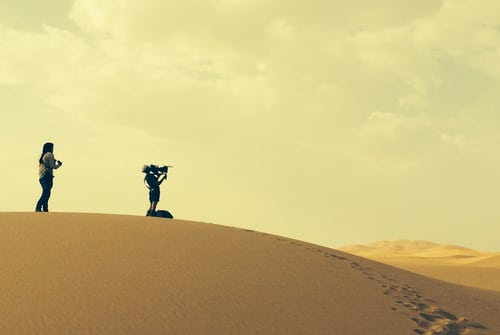 Congratulations to Quirk Creative Director of Film Gaelan Connell for his feature in Gear Patrol. Gaelan is praised as "the next Quentin Tarantino" for his role in disrupting Hollywood. Full article below.
CAN A QUARTER-MILLION-DOLLAR ACTION MOVIE DISRUPT HOLLYWOOD?
FEATURES By J. TRAVIS SMITH
The Mexican rooftop was a series of white peaks and red valleys, like desert waves crashing around silver ventilation ducts. Jack Riordan, played by Aaron Costa Ganis, chased Ricardo Torres, a professional parkour runner playing a gold smuggler, up and down the slopes. Ganis, sunburned and sweating, was losing ground on Torres, but Torres was about to run out of real estate. As they reached the roof's edge, Ganis had Torres trapped, but, without breaking stride, Torres leapt off the roof and disappeared. A few seconds later the camera, attached to a drone, caught up to him as he rolled off the roof of a conveniently parked pickup truck below. Inside, an extra, seated on an unseen overturned bucket, shook his fist as Torres landed on the other side and was gone.
The scene cut and Gaelan Connell, the film's director, jumped up in excitement. He was shooting Blood, Sand and Gold, an Indiana Jones-esque action/adventure flick in which an archeologist, recently out of prison, works together with the heir to an international salvage company to track down a stolen chest of gold.
His head covered with a bandana and his nose smeared with sunblock, Connell rushed over to watch the scene replay from over the shoulders of the drone operators, two brothers local to Guadalajara. It was the second take, and this time it was perfect. It had to be. Everyone was hot and exhausted from working 16-hour days, but more importantly, Connell was just two weeks into a planned eight-week shooting schedule, which spanned five countries, and he had already almost drained the budget.
Connell wanted to prove that he could make an action movie for the big screen, with car chases, explosions and stunning visuals, but without the help of a Hollywood-level budget.
"We had spent so much upfront — flights, hotels, camera rentals, equipment — it was at that moment where we had to decide, should we move through with everything or cut our losses and head home?" said Connell. If he emptied his bank account, which totaled $205,000, on shooting the film, he'd have nothing left over for postproduction.
Connell's dream was on the verge of ending before it really began: he wanted to prove not only that he could make an action movie for the big screen, with car chases, explosions and stunning visuals, but that he could do it without the help of a Hollywood-level budget. All told, he was going to do it with a total of $274,000, once one outside investor signed on. If he could get people on the edge of their seat for a quarter million dollars, imagine what he could do for a few million — or so he'd pitch future projects.
Even when he first began directing films at the age of 11, Connell's goals were outsized. SAG actors that responded to ads on Craigslist about a $150-a-day job arrived to find a young kid with a camera, his mother standing off to one side, nervously compliant. "At age 15 I wanted to shoot a chase through the woods with a helicopter. People said, 'You can't do that,'" said Connell. "Well, you can rent a helicopter for 150 bucks. So I got a pilot out in Maryland, filmed for 30 minutes, and that was that." He didn't ask to be sent to summer camps; he asked for Sony VX-200s and dolly carts.
He carried this desire to New York University. "When I went to film school, there was like a big difference between film as an art form versus film as entertainment," said Connell. "I was ridiculed if I wanted to do something that felt too mainstream. People would be, 'Oh, man, you know, you're growing up… He's selling out.' It's not selling out if I love it… If you love what you're doing and a lot of people like it, you're doing something right."
Then, in the summer of 2014, at the age of 24, he bet his entire life savings, earned from a handful of acting gigs, on the type of film he loves, those "classic, epic films that bring the audience's emotions through little bit of everything."
Roughly, the American filmmaking ecosystem can be simplified to three tiers of financial backing. At the top are films made by one of the six major studios — Warner Bros., Walt Disney, Universal, Columbia, 20th Century Fox and Paramount. These films focus on success domestically and, increasingly, abroad. From 2010 to 2014, box office sales in the US and Canada shrank 2 percent, while internationally they rose 24 percent, according to a report released earlier this year by the MPAA. International markets now represent close to 72 percent of ticket sales worldwide.
For this reason, major studios eschew culture-specific aspects like comedy ordialogue for investments in expensive computer-aided visuals and fast-paced action sequences, which translate more readily abroad. The biggest blockbuster each year of the last few decades has been either an action, fantasy or animated film.
One step down in budgeting are films from well-known auteurs who stray away from the big six in order to maintain control of their processes. Films from directors like Wes Anderson, Paul Thomas Anderson and Quentin Tarantino are met with critical and financial success, but hit a money-making ceiling at less than half of successful big-studio films. Quentin Tarantino's largest box office gross came in 2012 fromDjango Unchained at $425 million, a huge amount of money until you consider that it was only the 15th-highest-grossing film of that year. At the top, The Avengers, a star-heavy, CGI-focused action film associated with Walt Disney Studios, in which entire blocks of Manhattan were destroyed, grossed $1.5 billion, with more than half coming from overseas.
t the bottom are independent filmmakers, like Connell, who face obstacles analogous to any startup, like securing talent, licensing and resources with limited budgets. For Blood, Sand and Gold, Connell could only pay his actors a small stipend and cover their living expenses. To secure some of them, he had to provide backend compensation of 2 to 5 percent of the film's profits. Even after shooting is done, most filmmakers will have spent up to 40 percent of their budget on advertising and distribution. To cut costs, the SAG contracts Connell's crew signed state that the film has to be premiered online. After that, Connell, along with many other low-budget filmmakers, may rely on film festivals to showcase his work to potential distributors for the box office.
In the US, the most influential of these types of independent film festivals is Sundance. Founded in 1978, Sundance has become the best place to take the pulse of the state of independent film. In 2015, the festival received 12,166 film submissions, down slightly from the record year in 2014 and up nearly 25 percent from 2010.
This stems from a decrease in barriers to entry. Technology for shooting, editing and showcasing films is rapidly getting more inexpensive. But due to the tech-heavy focus of action movies, this indie film bubble hasn't yet drifted into the genre.
"You can't really compete on the studio level, generally speaking, when it comes to action and major hijinks. Strong, character-driven, performance-dependent pieces, that is where independent film can compete with a studio film."
"You see people making their entry into filmmaking with certain genre films made with a very low budget, and then as they get more established and people have seen their success, they are willing to spend a little bit more money to help make them happen," explained Peggy Rajiski, an Academic Director at Tisch School of the Arts and juror at Sundance, over the phone. But when asked about Blood, Sand and Gold, an atypical indie film due to its genre, Rajiski explained that "it seems to me that for independent film, you can't really compete on the studio level, generally speaking, when it comes to action and major hijinks. Strong, character-driven, performance-dependent pieces, that is where independent film can compete with a studio film."
Still, Connell is not without precedent. The most successful examples of directors who broke through with low-budget action films are Robert Rodriguez with El Mariachi and Quentin Tarantino with Reservoir Dogs. But in these instances the directors relied, respectively, on man-to-man gunfights set in small Mexican towns, and a botched heist in which the actual heist is unseen and most of the action occurs in a warehouse. Not so with Blood, Sand and Gold. Historically speaking, Connell is making a doomed film.
To cut costs without reducing the film's quality substantially, Connell had to employ a range of indie methods. He shot the film entirely abroad. Establishing shots in Dubai, where filming is expensive, then quickly cut to action shots in similar geographic regions of Mexico. The film was shot on a rented RED Camera in 4K, putting its quality in the top tier of films being made today. Aerial shots, which would have required the use of expensive cranes or helicopters only years ago, were captured by a Blackmagic camera attached to a drone. The movie was also shot almost exclusively during the day or, when at night, in brightly lit interiors, to avoid the expensive lighting involved in nighttime shots.
"When the movie was done I had 650 bucks in my bank account."
There are still explosions, car chases, gun battles and fights in helicopters. But the explosions were carried out by a local pyrotechnic expert in a remote area of Mexico, instead of in a populated city in the US. The car chases, and crashes, were real, practical special effects, done in a desert so there was no need to close down a road. The helicopter was borrowed from the a local governor, who was excited to help a film shoot in his hometown. At one party halfway through the film, expensive cars and a pet tiger roam across the screen, all donated by wealthy locals wanting to show off their lifestyle. There were no green screens for the settings. Connell and a small skeleton crew bought round-the-world plane tickets at a cost of only a few thousand dollars. With large crews and massive shooting equipment, this travel wouldn't have been possible. And none of the film's actors, nor the score's musician, were big-name stars, one of the most significant factors in selling tickets.
But even then, "When the movie was done I had 650 bucks in my bank account," said Connell.
A behind the scenes look at the making of Blood, Sand and Gold. Interviews, in order of appearance, with Gaelan Connell, Monica West and Aaron Costa Ganis.
After wrapping production, Connell will have to rely on video-on-demand platforms for distribution and advertising. Sites like Amazon, iTunes and Netflix deliver films to a captive market. Instead of advertising to everyone, these platforms will put Blood, Sand and Gold in front of consumers that frequently watch action/adventure films. "There's a reason the movie starts with the letter 'B'," said Connell, laughing. "It'll be at the top of the queue."
Online distribution platforms use algorithms based on user preferences to cut out people like Jesse Wente, the programme director at the Toronto International Film Festival, or TIFF, which is considered second only to Cannes for premiering films that go on to become critical successes. Wente oversees the film selection year round at the festival's theater. The specialty films he shows are very successful because viewers can't see them in any of theater, said Wente.
The car chases, and crashes, were real, practical special effects, done in a desert so there was no need to close down a road. The helicopter was borrowed from the a local governor, who was excited to help a film shoot in his hometown.
"What's interesting is the shift of availability of alternative distribution systems," Wente said. As for Connell's chance of success, "I would wonder what you would count as a huge success [for a film of Connell's budget]. When you allow users clear access to the content they want…you don't have to have a huge mass audience to be a success. With Netflix and iTunes, it's less about the revenue and more about the exposure."
"What I say today is probably out of date tomorrow, if not by later this afternoon," said Wente. "We are still figuring out how most of this is going to work and how we're going to engage with this sort of material going forward."
Back in Guadalajara, near the midpoint of shooting, Connell stood with his camera pointed at a facade of a bathroom, everything like a real bathroom except thin, flimsy and breakable. Monica West, playing Mave Adams, was hiding in one of the stalls when Shuna Iijima, playing a feisty prostitute, kicked open the stall door and drove her fist through the toilet's water tank, aiming for Monica's face.
Everyone on set was tense, and for good reason. They only had one chance to capture the action. In the scene's climax, Monica is supposed to end the fight by smashing the lid to the water tank over Iijima's head. The prop department, independent contractors from Guadalajara, poured two casts of the lid, designed to shatter easily during the fight. The only problem was the team made them too delicate, and one of them shattered in the hands of the prop guy as he was transporting them to the set. They now only had one chance to capture the fight.
The actors nailed it.
Connell admits he'd never be able to make Blood, Sand and Gold again. Too many favors were called in. Too many friends of friends were willing to help a film crew get off the ground. So much was done with so little. But he only needs to make one film with a budget of $274,000. The movie will serve as his calling card for future projects.
On a recent Wednesday morning, I met Connell at a screening room in Chelsea to preview the film. It was only days after the final color correction, and some of the special effects hadn't yet been added. In one scene a hawk circled the screen, hunting unseen prey. The hawk wasn't the only scene that showed the ceiling of $274,000. Sometimes, bystanders looked a little too interested in the lead — Connell hadn't been able to afford blocking off the set. Actors destroyed rooms and remote buildings, instead of downtown offices and city blocks. In one scene, a character reaches for a lighter to detonate an explosion that was never shot because of budget concerns.
But each scene is beautiful, shot and cut from multiple, fast-moving perspectives, with a sense of scale but also detail that's lost with many low-budget films. Sound mixing, produced by a sound crew member from the Fast & Furious franchise, grips you for every bump during car chases that can't run through crowded and colorful marketplaces, but show ambition and potential flying through empty deserts.
Each scene is beautiful, shot and cut from multiple, fast-moving perspectives, with a sense of scale but also detail that's lost with many low-budget films.
The film never fails to entertain. Connell shows he knows how to pace, how to direct and how to keep the viewer's attention. What I might miss from a Bond or Bourne film is waiting at the edge of the frame, if only there was more money. And that's the point. That's the pitch. The old way of doing things is being upended by inexpensive and capable technology, slight adjustments in casting and shooting locations, and ambitious new directors. This is the future of independent film as it blurs into the action and adventure categories.
"Listen, this is what you get when you take a bunch of talented people, a 4k camera, and drop them in the middle of the desert with a bunch of plastic guns," said Connell. The result is worth far more than its price tag.