Top 3 Takeaways from Cannes Lions 2019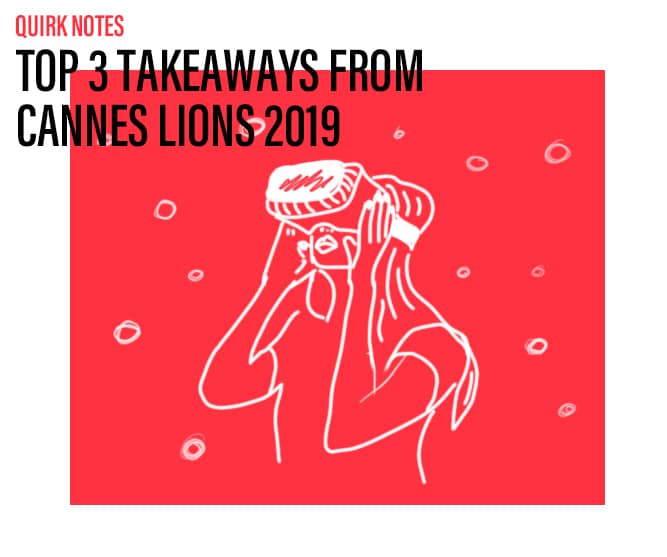 By Gaelan Draper, Creative Director
I was lucky enough to go to Cannes Lions last week, and it was a great experience (humblebrag: it was part of the Adweek Creative Top 100 Reception. We were honored). As we look to the year ahead – here are some trends that I see. 
ONE – DIVERSITY ISN'T JUST GOOD, IT'S GOOD BUSINESS
As the Creative Director of a woman-owned business in Brooklyn, I'm proud to represent a business that has always pushed for inclusion and diversity in casting, in our team (both in front of and behind the camera), and in themes of the creative we produce. Though we know diversity of perspective and experience is good business, we've struggled to quantitatively prove why… until we went to an amazing workshop from the wonderful people at The Unstereotyping Alliance. 

Aiming for a world of un-stereotyped branded content, the Unstereotype Alliance tracks business trends and gives advertisers the tools to understand the benefits of diversity in branding. Some examples:
Box office sales increase by $10 million when there is a female lead. 

There's a 45% increase in purchase intention when ads portray women equally, respectfully, appropriately.

Brands see an 83 point rise in brand reputation when ads portray women as "whole, human, and strong.

It's the job of advertisers and brands to reflect the look and ideals of the world they're selling to. In our case, we're selling to a world that's diverse, accepting, and freed from the gendered stereotypes of days gone by. Period.
TWO – VR IS COOL. AR, ISN'T (YET)
The Cannes Lions VR exhibits (especially the one at Facebook Beach) marked the first time I found myself truly immersed in a VR experience. The technology has grown by leaps and bounds. The displays are better, the cameras are better, and most importantly, the craft is better. A good example would be Roger Ross Williams'"Traveling While Black," a 19 minute VR film that immerses viewers on a journey through time and place. The film is centered around my hometown favorite, Ben's Chili Bowl – and heartbreaking and brilliantly immersing viewers and prejudice as a person of color, starting in the 50s and then transitioning to modern day.  I've never encountered a visual experience and medium that so thoroughly put me in someone's literal shoes as this. I'm excited by the possibilities of the medium to introduce viewers to new concepts, places, and experiences. 
Augmented Reality, by contrast, struggles to be anything beyond a scavenger hunt or a camera filter. While the technology might get there in the next 2-3 years, AR's struggle is at its core; it's much harder to come away with an AR experience with the level of emotion or immersion that VR has been able to achieve. 
THREE – USE CREATIVE THINKING ON ALL ASPECTS OF YOUR CLIENTS' BUSINESS. 
"The answer for a start-up is rarely an ad campaign." – R/GA US Chief Strategy Officer Jess Greenwood.
Despite Quirk being a video-centric ad company, there's much wisdom in those words. R/GA is killing the game right now, and their emphasis on merging creative with strategy shows the limitless future possibilities for marketing agencies, large and small. The increasing integration of creative thinking as a solution to everything from distribution, to services, to a client's business model itself is exciting. A recent case study involves R/GA and their client, Pepsi. When tasked with making soda more appealing to millennials (who tend to favor sparkling waters like LaCroix), they realized an ad campaign wouldn't cut it. Instead, it was easier for Pepsi to create and launch their own sparkling brand (Bubly) – which went on to be a $100 million brand within 8 weeks of launch. As the business evolves, all agencies must think beyond their bread and butter Advertising/ Brand/ Marketing offerings and look for the best creative ways to truly help their clients.
In a business where we're always expected to have all the answers, a forum like Cannes Lions is a refreshing moment to admit that there's always more to learn. Look for these three things to be incorporated, not only in our work, but in the industry as a whole in the years to come.